After the quake, Italy's prime minister vows to rebuild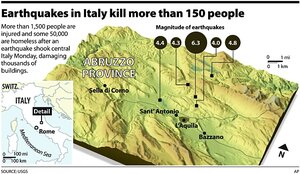 Source: USGS
MILAN, ITALY – The death toll of the earthquake that struck central Italy early Monday morning has risen to 207, according to Italy's prime minister Silvio Berlusconi in a press conference today in L'Aquila, the city most damaged by the temblor.
"Rescue operations are proceeding well," he said, adding that "150 people have been successfully pulled alive from the rubble."
Reuters reports that a fireman pulled a boy alive from the ruins of a house after a day of digging. "All we could see was his head sticking from the rubble, his entire body was buried. We kept digging, picking piece by piece of debris and we finally
managed to get him out . When we did the fatigue was great but so was our
joy," he said.
But Berlusconi said that search operations will only continue for another 48 hours.
Aftershocks continued to rumble through the mountains of central Italy prompting most residents in the area to spend the night in tents or in their cars. On Tuesday morning, a 4.7 magnitude aftershock was felt 60 miles away in Rome.
Some remote villages near L'Aquila are thought to be completely destroyed. This was the deadliest quake in Italy in 30 years. In addition to the loss of life, the once-beautiful medieval city has lost much of its historical and artistic heritage, the state-owned TV Rai Uno reported. By one estimate, two-thirds of the buildings were significantly damaged.
---