Georgia protests revive charges of foreign meddling
(Read article summary)
Embattled President Saakashvili has accused Russians of financing a popular movement to oust him.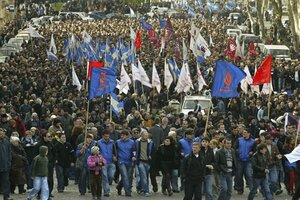 Shakh Aivazov/AP
MOSCOW – A fresh cycle of "colored revolutions" appears to be shaking the former Soviet Union, and once again fingers are pointed all around at nefarious "foreign interests" aiming to profit from the turmoil.
Over the past week the post-Soviet states of Moldova and Georgia have both erupted in angry street protests aimed at overthrowing an elected government, which demonstrators claim came to power through fraud and seeks to impose a dictatorship.
It's not the first time for Georgia, which has regularly deposed every elected president since gaining independence from the USSR in 1991.
But Georgian President Mikheil Saakashvili, who himself came to power in the "Rose Revolution" of 2003, sees a Russian conspiracy in the wave of street protests that have been rocking Tbilisi since last week. (For details click here and here.)
Some 20,000 people gathered in Tbilisi's main square Monday, for the fifth day running, to demand Mr. Saakashvili's resignation.
"Most of the money [to finance the protests] comes from Russian oligarchs," Saakashvili told Newsweek correspondent Anna Nemtsova over the weekend. "Whether the money is being sent from Russia under the supervision of the Russian government, that, I do not know."
---
Follow Stories Like This
Get the Monitor stories you care about delivered to your inbox.