Medvedev picks Politkovskaya's paper for first interview
(Read article summary)
Is the Russian president making a peace offering to liberals by choosing Novaya Gazeta, four of whose journalists have lost their lives after probing corruption and human rights abuses?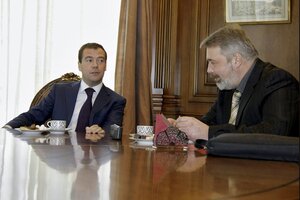 RIA Novosti/Reuters
MOSCOW – For years, the Moscow weekly Novaya Gazeta has been the bane of the Kremlin.
Its tough investigative journalism has been the most consistent and reliable source for those Russians who want to know about official corruption, political manipulations, and human rights abuses going on around them. And the price for publishing those stories has arguably been paid in blood: Four of the paper's reporters have been murdered or died in mysterious circumstances in recent years, including the indefatigable investigative journalist Anna Politkovskaya (read more about her work here).
But on Wednesday, Novaya Gazeta scored a very unexpected coup by landing an interview with President Dmitry Medvedev – his first with any Russian newspaper.
The text of Mr. Medvedev's hour-long chat with editor Dmitri Muratov contains no bombshells or, indeed, anything that departs significantly from the standard Kremlin line. But many in Russia's beleaguered liberal community say they are trying to read the signal Medvedev may be sending through his choice to sit down with the country's leading opposition voice.
---