Kosovo: Where hearts were won in the Balkans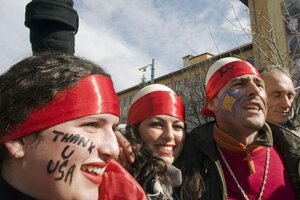 Visar Kryeziu/AP
PRISTINA, KOSOVO – As President Obama's charm and "change" ramps up American soft power in Europe – here's a tiny corner of the Continent where enthusiasm for the "USA" never left.
Pristina's main artery is named Bill Clinton Avenue. After NATO ended ethnic cleansing in 1999, Albanians named their newborns "Madeline Albright Ismaili" or "Al Gore Ajeti." The honeymoon continues: A "statue of liberty" sits atop a city hotel. American flags fly profusely – on cars, storefronts, and on solitary homes in the countryside.
In Kosovo, American styles, films, and symbols are bolted in hearts and minds. It's uncritical, and a tad embarrassing to elites, but there you have it. That giant America helped end Kosovo's horror still amazes. In Pristina, it is hard to find locals who don't speak English; even elders try.
---