Hariri assassination suspects freed in blow to Syria's opponents
(Read article summary)
In an unexpected twist, the UN tribunal investigating the murder of former Lebanese Prime Minister Rafik Hariri has ordered the release of four senior Lebanese officials.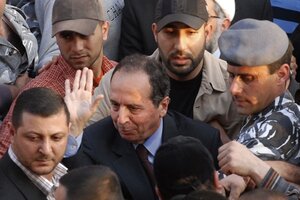 Mahmoud Tawil/AP
An international tribunal probing the murder of former Lebanese Prime Minister Rafik Hariri on Wednesday ordered the release of four Lebanese generals, a key development in the four-year investigation.
The generals were all Syrian-backed heads of Lebanese security and intelligence departments at the time of Mr. Hariri's murder in February 2005. They were imprisoned without charge in summer 2005 on the advice of the then-chief investigator of the United Nations-led investigation.
Their release is a blow to Syria's opponents, who hoped that if the one-time pro-Syrian generals had been indicted by the tribunal, it would have placed further pressure on Damascus.
On the other hand, the tribunal's findings will encourage Syria as it attempts to woo the United States. It will also bolster the Hezbollah-led parliamentary opposition in Lebanon, which is backed by Syria and looks increasingly well-placed to win the general election on June 7.
The four senior officers are Jamil Sayyed, former head of the general security department, Mustafa Hamdan, former head of the presidential guard, Ali Hajj, former head of the International Security Forces, and Raymond Azar, the former military intelligence chief.
The tribunal, which is based in The Hague in the Netherlands and began functioning on March 1, gave Daniel Bellemare, the chief prosecutor, until April 27 to decide whether to indict or free the four generals.
---