Biden firm on two-state solution despite Netanyahu's mixed signals
(Read article summary)
Israeli Prime Minister Benjamin Netanyahu said Monday that he's ready for immediate talks with the Palestinians, but he won't endorse a Palestinian state.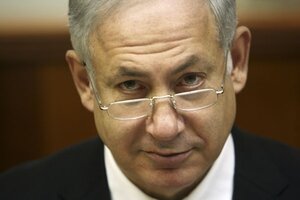 Uriel Sinai/AP
JERUSALEM – Israeli Prime Minister Benjamin Netanyahu is stepping up the message he's trying to sell to the Obama administration: Israel is ready to resume peace talks with the Palestinians immediately. But the new premier in town - unlike his predecessor - does not see the two-state solution as the answer to the Israeli-Palestinian conflict.
Mr. Netanyahu's aids emphasize that he has not ruled out such a solution, but he will not endorse that formula, which was the basis of the Olso Accords Israel signed with the PLO in 1993.
This mixed message has immediately been met with mixed reactions. Palestinian leaders, as well as officials in the Obama administration, have made it clear that they see no other way forward, and that the creation of a Palestinian state alongside the state of Israel must be the ultimate goal of peace talks.
Vice President Joe Biden said Tuesday that Israel "has to work for a two-state solution ... not build more settlements, dismantle existing outposts, and allow Palestinians freedom of movement." He made the remarks at the annual meeting of the American Israel Public Affairs Committee (AIPAC), a powerful pro-Israel lobby in the US.
---