Behind Moscow's Eurovision extravaganza, a less harmonious Russia
(Read article summary)
The same day it hosted the finals of the 42-nation singing contest, police quashed a gay rights parade.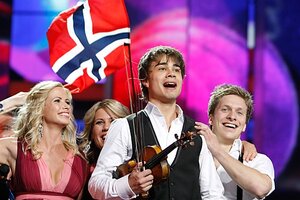 Denis Sinyakov/Reuters
MOSCOW – Two very different Russias, the paradoxical outcome of nearly 10 years of relative prosperity dubbed "the Putin era," were on full display in the streets of Moscow this weekend.
One Russia, keen to excel in all forms of international competition, opened its collective heart to participants of the 42-nation Eurovision contest, which climaxed Saturday night with a boisterous, standing-room-only extravagant finale in the 80,000-seat Moscow Olympisky Stadium.
The contest, won by the Belarussian-born Norwegian singer Alexander Rybak, reportedly garnered a global TV audience of 100 million, making it one of the most watched spectacles on the planet.
In Russia, it seems that nearly everyone watched the extended television coverage that went on for much of the night, including interviews with winners and losers among the 25 final acts.
In one case, many members of a studio audience – including ultranationalist Vladimir Zhirinovsky – burst into tears of appreciation as two Armenian sisters, Inga and Anush Arshakyan (who came in 10th), offered their deep-throated impromptu rendition of a famous old Russian folk song.
---