OAS welcomes Cuba back after nearly 50 years
(Read article summary)
Latin American leftist leaders are hailing the Organization of American States' move Wednesday as a symbolic 'end to the cold war.'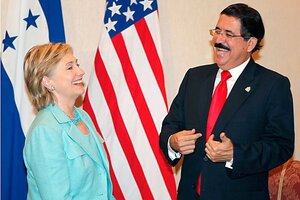 Eduardo Verdugo/AP
MANAGUA, NICARAGUA – In a unexpected decision that's being hailed by Latin American leftists as the symbolic "end to the cold war," the Organization of American States (OAS) reached a belabored consensus yesterday to allow the reintegration of Cuba, after being banned from the hemispheric body since 1962.
Washington had argued that Cuba was not ready to be allowed back into the OAS until it made progress on democratic governance and human rights. But the Obama administration compromised by allowing the island nation back in as a reward for the Cuban government's new apparent willingness to dialogue and reform.
The resolution was announced at the OAS meeting Wednesday afternoon in San Pedro Sula, Honduras, after a tense session of dialogue that pitted the United States against the left-leaning nations of ALBA, the Venezuelan-inspired socialist club of five Latin nations. Honduran President Mel Zelaya, whose country is the newest member of ALBA, called the decision a "wise rectification" on the part of the regional body and an important historic recognition of the 1959 Cuban Revolution.
---