Guantánamo Uighurs: pack your bags for Palau
(Read article summary)
The tiny Pacific nation agreed Monday to accept the detainees – along with $200 million in US aid.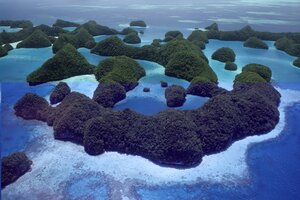 NEWSCOM
At last, 17 Uighurs detained in Guantánamo since 2002 and stuck in legal limbo since last year will leave the prison camp. Their departure had been delayed as the United States sought to find one country willing to defy China, which wants its "terrorists" back, and take the men in: Palau.
Where?
You know, the tiny archipelago of eight main islands and 250 islets 500 miles east of the Philippines. It's famous for its tropical climate, tourism, and diving.
Apparently, the little Pacific nation is willing to do what Germany, Australia, Canada, and about 100 others wouldn't. Their reluctance is probably not from the men's terrorist inclinations – senior US officials say they pose "the least risks" of all remaining Guantánamo prisoners. More to the point are repercussions from China, which has tried to block the Uighurs from being resettled elsewhere.
Albania took in five Uighur detainees from Guantánamo in 2006 but has since refused to accept more, "partly for fear of diplomatic repercussions from China," according to the Associated Press.
---