One brilliant half not enough: US falls to Brazil, 3-2
(Read article summary)
After a stunning start, the US could not cope with Brazil, leaving American soccer to ponder another moral victory – instead of a real one.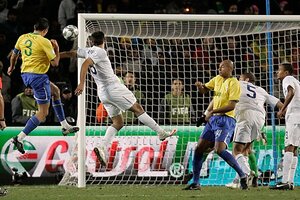 Antonio Calanni/AP
There was a moment midway through the first half of the Confederations Cup final, when the United States could legitimately claim it was giving the most storied team in the history of world soccer a spanking.
The US' second goal of a sparkling half was sketched with an artists' paintbrush – a 10 second sweep of skill, precision, and speed that Americans had only ever seen from players and teams in other shirts hailing from other places.
That moment, when the US led Brazil, 2-0, and not only deserved it but looked eager to score more, is the stake they planted in this World Cup warmup, proving to the world – and perhaps even themselves – that they could consistently play with the world's best.
But the final score was not 2-0. It was 3-2 in favor of Brazil, and that means that, for now, US men's soccer still lives in the world of moral victories.
In this case, those moral victories are considerable: breaking No. 1 Spain's world-record 15-game winning streak, for the first time advancing to the final of a tournament that included teams from outside North America, running Brazil ragged for most of a half.
For Brazil, a team that has won five World Cups and a host of other tournaments more illustrious than the Confederations Cup, this championship is hardly something to stir the soul. And yet, when Lucio headed past Tim Howard in the 83rd minute, teammates collapsed onto their knees, mouths wide in whoops of unfeigned elation.
---