Gaza: Under Israeli blockade, a boom in smuggled motorbikes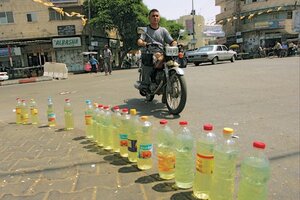 Ismael Mohamad/UPI
• A local, slice-of-life story from a Monitor correspondent.
GAZA CITY, GAZA – Five months after Israel's 22-day war in the Gaza Strip, thousands of Palestinians are still struggling to rebuild their lives. The facades of homes are riddled with bullet holes, schools have gaping holes in the walls from rocket strikes, and bombed government offices remain piles of rubble.
Yet one aspect of life in Gaza was quick to return to business as usual: the vast network of underground smuggling tunnels which provide a lifeline to the 1.5 million people in the war-torn territory.
Despite Israel's heavy air attacks, hundreds of tunnels continue to operate and thousands of dollars worth of food, clothes, machinery, and weapons arrive each day from Egypt. They are also bringing a new ride to Gaza's streets: motorbikes.
When extremist Islamist group Hamas seized power in Gaza in 2007, Israel sealed the borders and imposed a blockade. The legitimate economy collapsed and unemployment soared.
Only the most basic supplies can now enter, so new cars and supplies of alternators, transmissions, rims, or fuel pumps has steadily dwindled. This has made motorbikes – smuggled hundreds at a time through the largest tunnels running between Egypt and Rafah – a hot commodity on the streets.
They are a welcome cheaper alternative for families in crippling times, but a menace to the already traffic-clogged bumpy roads.
---