Are N. Korea's short-range missile tests a prelude?
(Read article summary)
Thursday's tests were expected; what's at issue now is whether Pyongyang will send a long-range missile toward Hawaii on July 4.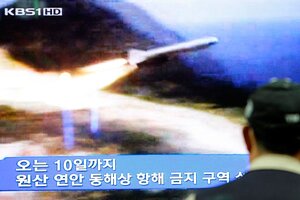 Lee Jin-man/AP
Washington – North Korea's launch of four short-range missiles Thursday was widely expected by US and South Korean intelligence. The question now is whether these firings were the main event or just a prelude to something more threatening: the test of a long-range intercontinental ballistic missile (ICBM).
Last month, Japanese media reported that Pyongyang might shoot a long-range ICBM in the direction of Hawaii around the July 4 holiday. Secretary of Defense Robert Gates ordered the deployment in the region of US antimissile interceptors and a sea-based tracking radar.
President Obama thought the situation serious enough to address in an interview broadcast on June 22.
"Our military is fully prepared for any contingencies" regarding North Korea, Mr. Obama said.
But despite Thursday's ripple of short-range test shots, there is little physical evidence North Korea is readying another long-range test, at least in the foreseeable future. And even if the North Koreans do test another ICBM, it is "highly unlikely" they would actually intend the missile as an attack on Hawaii, according to David Wright, co-director of the Union of Concerned Scientists' Global Security Program.
---