Afghanistan: Town crier, with megaphone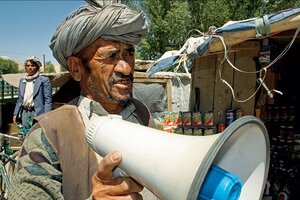 Ben Arnoldy
• A local, slice-of-life story from a Monitor correspondent.
BAMIYAN, AFGHANISTAN – Long before Craigslist displaced newspaper classifieds, classifieds essentially evolved from the humble town crier. But nestled in the remote mountains of central Afghanistan, the crier, called a jarchi, still advertises by foot and vocal chords.
"Anytime people lose a sheep, a goat, or a child, they don't go to the radio, they come to me," says Joma Khan, the jarchi of Bamiyan city. "People love my voice."
Since the days of the Silk Road, jarchis have walked up and down the bazaars of Central Asia, calling out the latest goods for sale and public announcements, all for a modest fee. Mr. Khan charges $4 for 90 minutes of work, aided by only one modern convenience: a battery-operated megaphone.
"It's a tough job. It's not just walking straight. It's stopping and explaining to people what's going on," says Khan. Many Westerners may claim to hate the proliferation of advertising, but in a land where information is scarce, everyone is curious to hear the jarchi.
"We like the jarchi very much because we do not have many radios and televisions," says Ghulam Mohammad, a driver in Bamiyan. "Jarchi is very useful."
---