Kashmir leader resigns amid scandal allegations
(Read article summary)
Omar Abdullah, who has been described as a hope for the troubled state, stepped down while investigations continue.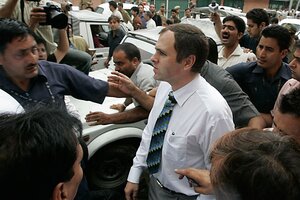 Danish Ismail/Reuters
NEW DELHI – Omar Abdullah, the chief minister of Indian occupied Kashmir dramatically quit his job Tuesday, over allegations he had been involved in an infamous sex scandal three years ago.
The news quickly hit the headlines in India. Mr. Abdullah has been regarded as the hope of troubled Jammu and Kashmir state, which for years was ravaged by a rebellion against Indian rule and remains tense today. (See the Monitor's profile of Abdullah here.)
The scion of Kashmir's leading political dynasty dismissed the allegations – which were made by a leader of the opposition People's Democratic Party (PDP) during a speech in the state assembly – as groundless and politically motivated.
"But if I hadn't taken this decision, I would have carried this thing with me for the rest of my political career," he said in a telephone interview, adding that he wanted his name cleared while he was out of office so no one could accuse him of using his power as chief minister to influence investigations.
---