Typhoon Morakot blasts China and Taiwan
(Read article summary)
Japan, meanwhile, may deploy the military to deal with the deadly impact of tropical storm Etau.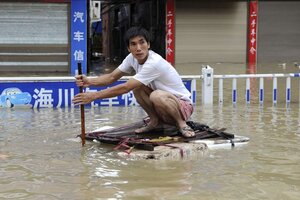 Lang Lang/Reuters
BEIJING – Typhoon season has begun in earnest in East Asia, dealing deadly blows to Taiwan, Japan, and China.
The largest toll appears to be in southern Taiwan, where mudslides and floods over the weekend have left hundreds dead or missing. A resident evacuated from a remote mountain town in the south said that his entire village had been engulfed by a mudslide. A military helicopter earlier rescued about 100 people from the village, according to police.
Taiwan's official death toll is 14, with another 51 missing. That number, however, excludes the village covered by the mudslide, which appears to be cut off from outside help. The flooding is described as the worst in 50 years in Taiwan, a country that sees more than its fair share of natural disasters, including earthquakes.
A dramatic scene unfolded in eastern Taiwan on Sunday when a six-story hotel crumbled into a swollen river after floodwaters weakened its foundations. The guests had already been removed from the hotel a day earlier.
---