Taiwan asks for global help in wake of typhoon
(Read article summary)
Taiwan deploys more troops to rescue thousands stranded by floodwaters as public anger grows over the fate of the missing.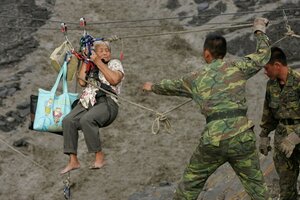 Wally Santana/AP
BEIJING – Taiwan has appealed for international help to rescue thousands of people stranded in mountain areas in the wake deadly Typhoon Morakot.
Troops are airlifting survivors and cutting roads through deluged areas amid mounting public alarm over the fate of the missing. So far, 108 people have been confirmed to have died in the country's worst flooding in five decades, and several hundred more remain unaccounted for.
Another 4,000 troops have been deployed, bolstering a 16,000-strong contingency. Some villagers reportedly used their bare hands to try to dig out survivors from homes buried by landslides.
President Ma Ying-jeou said the US, Japan, China, and Singapore had offered financial help. The government has appealed for overseas equipment to aid the rescue effort, including helicopters and gravel trucks.
---