How Y.E. Yang stood up to Tiger Woods – and shocked the world
(Read article summary)
The South Korean pulled off one of the greatest upsets in sports on Sunday by beating golf legend Tiger Woods in the 91st PGA Championship with calm insouciance.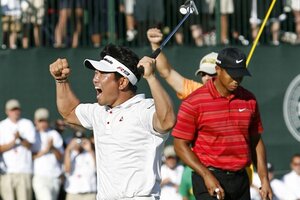 Jeff Haynes/Reuters
Y.E. Yang apparently forgot to read Robert Ringer's bestselling self-help book from the 1970s: "Winning Through Intimidation."
When Tiger Woods goes into the final round of a major golf tournament, after all, he always wins, often not because of his own brilliance on the fairways – though inevitably there are moments of that, too – but because his opponents collapse at the mere sight of him atop the leader board.
Not this time.
Mr. Yang was the one with the magic-wand chips and cool putter. He was the one with the toothy grin and split-the-fairway drives. He was the one who sailed the ball – with courageous precision – 206 yards over a tree on the last hole to leave it eight feet from the hole and put an exclamation point on one of the biggest upsets in golf, maybe sports, history.
Woods, meanwhile, was the one left snarling. He was the one missing eight-foot puts with metronome regularity. Ultimately, he was the one who proved vincible on this blustery day outside Minneapolis – the kind Minnesotans say is perfect for walleye fishing – which may now change the dynamics on the professional golf tour.
Or at least we can pretend it will.
Before we go any father, let's clear up one thing: Tiger Woods won five tournaments this year after coming off major knee surgery, a record that most people would consider worth an exhibit at the Smithsonian. Not Tiger.
---