In Germany, an ovation for 'Inglourious Basterds'
(Read article summary)
The film – opening in 22 countries this weekend – is so far from reality that it allows the audience to let go and accept the movie in all its entertaining absurdity.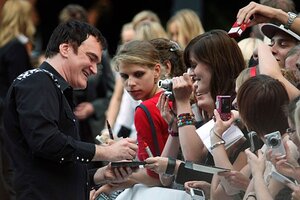 Thomas Peter/REUTERS/FILE
BERLIN – The 7:30 p.m. showing of Quentin Tarantino's World War II film "Inglourious Basterds" was completely sold out – like the shows that preceded and followed it at the Postdamer Platz Sony Theater in Berlin.
As the audience took its seats, one could hear German, English, French, Italian, Spanish and other languages being spoken, a crowd reflective of the multicultural city.
But once the movie began, a certain discomfort settled over the crowd.
How would an audience in the capital of Germany, the country blamed for starting the war that destroyed Europe, react to a violent, farcical film about it?
"I really don't know what to expect," said Alex, a Swiss comic-book artist, just as the light went dim. "I'm nervous as to how it will be received."
The audience remained quiet through the film's opening scenes, many sitting forward in their seats. One woman repeatedly covered her eyes, as if expecting something awful to happen at any moment.
It wasn't until Austrian actor Christopher Waltz, portraying Nazi Col. Hans Landa, appeared on the screen, that the discomfort abated.
Late in the film's opening sequence, Mr. Waltz, playing the villain, switches from harsh-sounding German to a lyrical French, then to a comical English. In this film, unlike most other World War II movies, English was the least-spoken language.
"That's really interesting for a Hollywood blockbuster," Alex whispered.
Landa's opening performance began to reveal the movie for what it ultimately is – a farce so far from reality that it allows the audience to let go of personal connections with the characters, just as the characters abandon their native tongues, and accept the movie in all of its entertaining absurdity.
---