Adm. Mullen joins Lockerbie outrage
(Read article summary)
The chairman of the Joint Chiefs of Staff said Sunday that he was 'appalled' by the United Kingdom's decision to release convicted bomber Abdel Baset al-Megrahi, which he said was clearly 'political.'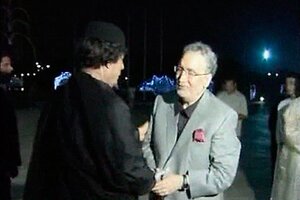 Libya TV via Reuters TV/ Reuters
Chairman of the Joint Chiefs of Staff Adm. Mike Mullen today became the latest US official to slam the United Kingdom's decision last week to release the Lockerbie bomber.
Abdel Baset al-Megrahi, the Libyan convicted of killing 270 people in the 1988 airline bombing, was greeted as a hero upon returning to Libya late Thursday.
Admiral Mullen said he was "appalled" by the decision, which he said was clearly "political."
The comments come two days after FBI Director Robert Mueller sent a withering letter to Scottish Justice Secretary Kenny MacAskill.
"Your action makes a mockery of the rule of law," Mr. Mueller wrote. "Your action gives comfort to terrorists around the world who now believe that regardless of the quality of the investigation, the conviction by jury after the defendant is given all due process, and sentence appropriate to the crime, the terrorist will be freed by one man's exercise of 'compassion.' "
---