Hurricane Bill targets Canada: How often does that happen?
(Read article summary)
The storm was steaming toward Newfoundland Sunday. It would not be the first hurricane to hit Canada.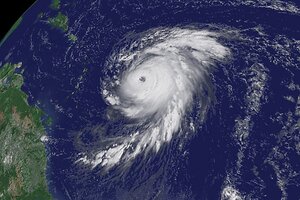 NOAA/ Reuters
Hurricane Bill passed American shores early Sunday morning as it headed northeast toward a potential rendezvous with Canada Sunday evening.
The storm has tracked northward along the East Coast during the past week, at one point becoming a Category 4 storm with sustained winds of at least 131 miles per hour. But it missed Bermuda Saturday and has stayed far out to sea, resulting only in rough surf and closed beaches from New Jersey to Nantucket.
If Bill makes landfall at all, it will likely be in Newfoundland, by which time it is expected to be downgraded to a tropical storm.
Hurricanes and Canada are hardly synonymous, but the storms are not unheard of – particularly along Canada's eastern seaboard. Hurricane Kyle hit Nova Scotia as recently as last year, and several other hurricanes – including Noel and Juan – have caused significant damage in the maritime province during the past decade alone.
---