France tries to rein in $85,000 bonuses
(Read article summary)
French President Nicolas Sarkozy seeks international front to reduce global banking bonuses ahead of next month's G-20 meeting.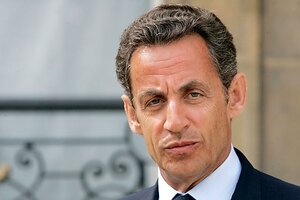 Jacques Brinon/AP/File
PARIS - French president Nicolas Sarkozy aims to put the onus on the banking bonus.
Revelations earlier that French bank BNP Paribas had set aside some $1.4 billion in bonuses for its traders has the French now seeking a lead position in reducing such multi-billion dollar payouts ahead of the Pittsburgh, Pa., G-20 meeting next month.
But Sarkozy and Finance Minister Christine Lagarde will need help from the US and other EU states in Pittsburgh if the effort to contain banking's bonus culture is to be more than a milquetoast voluntary system, finance experts here say.
In the seventh meeting initiated by the Elysee Palace this year – today with Ms. Lagarde and tomorrow with Mr. Sarkozy – French bankers are agreeing in principle to tougher bonus rules, including greater transparency on the practice of rewarding go-go traders with extra cash.
---