Lockerbie families raise doubts as Scotland defends release
(Read article summary)
Scotland's justice minister, and his party, are in the hot seat after releasing a man convicted of murdering 270. Victims' families demand more information.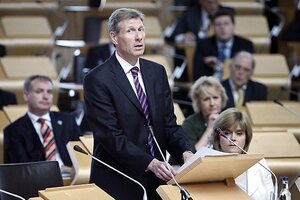 Adam Elder/ Scottish Parliament/ AP
Embattled Scottish justice minister Kenny MacAskill, facing a storm of international condemnation for ordering the "compassionate release" of the man convicted of murdering 270 people in the bombing of Pan Am flight 103 over Lockerbie 20 years ago, defended his action before an emergency session of the Scottish parliament on Monday.
He dismissed media suggestions that he had released Libyan intelligence agent Abdel Basset al-Megrahi in response to pressure from London, which has sought closer ties and more oil and gas business with Tripoli in recent years, or that the action was a Scottish nationalist tweaking of London's nose. Mr. MacAskill said his decision "was based on the law of Scotland, and the values I believe we seek to uphold. It was not based on political, diplomatic, or economic considerations."
---