Pakistani Taliban: Two men to replace Baitullah Mehsud
(Read article summary)
Hakimullah Mehsud and Waliur Rehman will share control, but analysts say infighting could erupt again.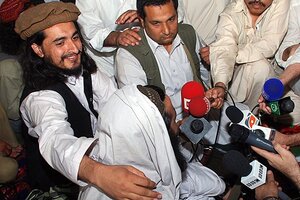 Reuters/File
Pakistan's extremist Taliban movement acknowledged Tuesday that its leader, Baitullah Mehsud, had died in the aftermath of a United States drone missile attack early this month and confirmed that two men would replace him.
Hakimullah Mehsud, a violent young jihadist with links to Al Qaeda, will be in nominal control but his rival, Waliur Rehman, will take charge of Waziristan, a vital region for the militant movement. Mr. Rehman, in a telephone interview Tuesday with reporters, threatened attacks against the West and called President Barack Obama "our foremost enemy."
The Pakistani Taliban provides sanctuary for Al Qaeda and the Afghan insurgents in Pakistan's lawless tribal area, and its leadership and goals will affect international forces in Afghanistan and terror plots against Western targets.
---
Follow Stories Like This
Get the Monitor stories you care about delivered to your inbox.