Germany's Merkel under siege after Afghanistan airstrike
(Read article summary)
The deadliest use of force by German troops since World War II has ignited a debate among an increasingly skeptical electorate.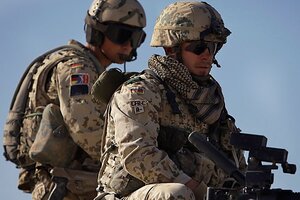 Anja Niedringhaus / AP
PARIS - German chancellor Angela Merkel, with furor at home over a deadly Afghan airstrike ordered by a German commander, told parliament today she "deeply regrets" the loss of innocent life but said the case should not be "prejudged" – an effort to push the radioactive issue past Sept. 27 elections, analysts say.
The airstrike ordered by Col. Georg Klein in Kunduz, Afghanistan, killed civilians as well as Taliban, according to a NATO report Tuesday. The deadliest use of German military force since World War II has injected an intense, emotional debate about the war in Afghanistan into a German election that had been devoid of the subject until now.
Germany and other European nations are unlikely to abruptly change their Afghan missions in the short term, despite high levels of public dissatisfaction. But German, French, and British leaders this week began to signal that their commitment is not indefinite.
"I can't imagine any scenario where European forces are precipitously withdrawn... I don't believe public opinion will drive this," says Thomas Klau of the European Council of Foreign Relations in Paris. "But neither would I bank on a strong European presence a year from now."
---