Karzai leads Afghan vote, but election watchdog finds fraud
(Read article summary)
The Independent Election Commission said preliminary results gave Karzai 54.1 percent of the vote. But a UN-backed vote monitor ordered a partial recount, citing evidence of fraud.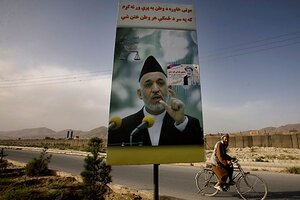 Farzana Wahidy / AP
KABUL, AFGHANISTAN – Preliminary election results announced today put incumbent president Hamid Karzai firmly in the winning stable even while the Electoral Complaints Commission (ECC) questioned the legitimacy of the tally, setting the stage for what appears to be a messy political battle.
At stake will be not only the credibility of the electoral process and the legitimacy of the next Afghan government, but the relationship between it and the international community.
The ECC, a UN-backed electoral watchdog, said Tuesday it had found "clear and convincing evidence of fraud in a number of polling stations." It ordered the Independent Election Commission (IEC) to conduct an audit and recount of ballot boxes in polling stations where there appeared to have been a 100 percent turnout, or where 95 percent of votes were cast in favor of one candidate.
The IEC, however, released figures giving Karzai 54.1 percent of the vote based on results from 91 percent of polling stations, saying that it could not complete the audits ordered by the ECC until all the preliminary results had been counted. It also challenged the ECC order on the grounds of an apparent error in translation.
Today's events were the first sign of dissension within the electoral process. It is not clear whether the IEC will eventually follow the ECC's order. Chief Electoral Officer Daoud Najafi said such an exercise would "take a long time."
---