Hugo Chávez calls Israel's Gaza war 'genocide'
(Read article summary)
The Venezuelan leader's comments, made during a visit to Syria, coincided with the release of an Israeli human rights group's report on Gaza casualties.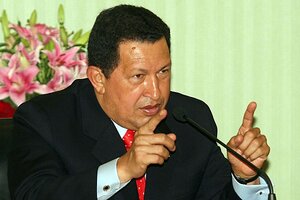 Bassem Tellawi/AP/FILE
Well, he wouldn't be Hugo Chávez without controversy.
This time Venezuela's leftist leader dropped the G-word.
"The question is not whether the Israelis want to exterminate the Palestinians. They're doing it openly," Mr. Chávez said in an interview, published on Wednesday, with the French daily Le Figaro.
"What was it if not genocide?" he asked, referring to Israel's 22-day war against the Hamas militant group in Gaza in January. "The Israelis were looking for an excuse to exterminate the Palestinians."
It's actually the second time this week that he's pulled that particular hatchet out of his verbal tool box.
While stopping off in Syria as part of what he called his 11-day "evil axis" tour to countries that have frosty relations with the US, he called upon Israelis to disobey their "genocidal" government.
Oh, but he said it with such panache.
"The state of Israel has become a murderous lackey at the service of imperialism," Chavez said. "It's a genocidal government. I condemn that Zionist government that persecutes the heroic Palestinian people."
---