Q & A: The Roman Polanski case. Why now?
(Read article summary)
If Polanski has a chalet in Switzerland, why was he arrested this weekend? Why not years ago?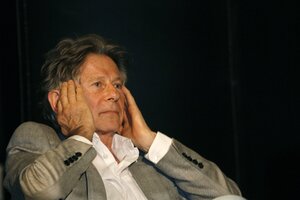 INA FASSBENDER/ REUTERS/ FILE
As an editor, and a father, here are some of the questions I'd like answered about award-winning filmmaker Roman Polanski's arrest in Switzerland this weekend. I've done some digging, but there's more to do.
What's the expiration date on a statutory rape conviction?
In 1977, Mr. Polanski pleaded guilty to one count of sexual assault of a minor. He drugged and had sex with a 13-year old girl. A Los Angeles judge sent him to 42 days in prison while he had psychological testing – and waited for his sentence. On the eve of his actual sentencing, Polanski heard from his lawyers that the judge was considering sentencing him to another 48 days in prison – maybe longer. So, Polanski jumped bail, and fled to France.
48 days for rape?
The average sentence imposed in a US federal rape case was 124 months (more 10 years) according to a 1993 study for Congress. The average statutory rape conviction: 37 months (3 years).
Isn't 30 years as a fugitive – unable to travel to the US – punishment enough?
The Zurich Film Festival jury thinks so. They put on red badges that said "Free Polanski" and held a press conference seeking his release.
---