Samoa tsunami: Islands assess how quickly they can recover
(Read article summary)
Samoa was hit harder than American Samoa, but damage is confined to one area. Another challenge will be convincing tourists – a major revenue source – to return.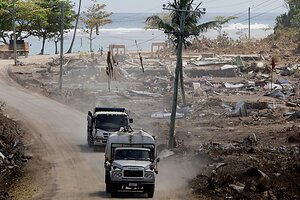 Rick Rycroft / AP
With little hope of finding more survivors following last week's earthquake and tidal waves in the South Pacific, governments and aid organizations are assessing the extent of the damage and switching gears the next recovery phase: rebuilding houses and livelihoods.
The reconstruction process is expected to take months, especially in Samoa, the nation worst hit by the disaster. As well as the challenge of rebuilding entire villages, officials are concerned about the impact of the tsunami on tourism, the country's main industry.
Nynette Sass, chief executive of the Samoa Hotel Association, said there had been anecdotal reports of mass cancellations. If they proved correct, she told the Associated Press this weekend, "that will be like having a second tsunami on us."
At least 135 people, including seven foreigners, were killed on Samoa's main island, Upolu, together with 32 in neighboring American Samoa, a United States territory, and nine in Tonga, an island chain to the south.
In Samoa, the recovery process will be facilitated by the fact that the damage, although extensive, is confined to one area, according to Peter Muller, the regional disaster response adviser to the United Nations' Office for the Coordination of Humanitarian Affairs.
Mr. Muller says that a 25-mile strip of Upolu's southeast coast was devastated, extending 100 to 200 yards inland. "That's where there's heavy damage, with some places completely wiped out," he says. "It's very bad but it's localized. The moment you move beyond that strip, everything is intact, and the roads have been cleared rapidly, so there's access to deliver aid and services and evacuate the injured."
---