Goldstone report: New roadblock to Palestinian reconciliation?
(Read article summary)
Hamas cancels Fatah reconciliation talks in Egypt. At the UN, Libya gets a hearing today about allegations in the Goldstone report on the Gaza war.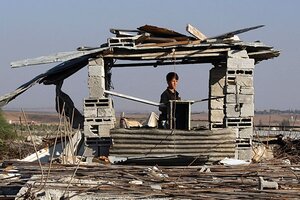 Hatem Moussa/AP
JERUSALEM - The Palestinian Authority's decision to delay further action on the Goldstone report – a UN investigation into the war in Gaza – is continuing to put Fatah leaders in a difficult political position vis-à-vis their domestic image, and may ultimately postpone progress on a Hamas-Fatah reconciliation deal.
Hamas said today that it had canceled a meeting between Fatah and Hamas in Cairo, where the two were expected to sign a reconciliation deal on Oct. 26. The reason, the Islamic organization said, was their outrage towards PA President Mahmoud Abbas.
"The crime of postponing the vote on Goldstone's report left a severe psychological crack, and Abbas should immediately apologize to the Palestinian people," said Salah al-Bardawil, a senior Gaza-based Hamas leader, in a statement sent to the media. He added: "Hamas has asked Egypt to postpone the dialogue, until Abbas apologizes."
---