Top 5 blunders of Somali pirates
(Read article summary)
Somali pirates attacked a French Navy ship by accident Tuesday night. Five suspects are in custody.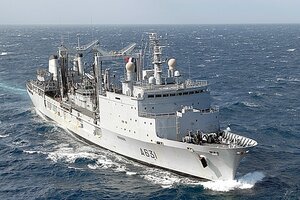 Thibaut Claisse/ECPAD/French Navy/AP
It's time to roll that sad trombone sound again. You know ... whomp whomp whomp waaaaah.
Lately, those once fearsome Somali pirates have been behaving more like Keystone Krooks than savvy organized criminals.
Yesterday, they bit off more than they could chew by attacking a French Navy ship off the coast of their lawless country.
They thought it was a cargo vessel.
D'oh!
"Once they realized they were facing a ship that was responding and was heading towards them, they stopped shooting and attempted to flee," said French military spokesman Christophe Prazuck. "The Somme [a command and supply ship] gave chase and intercepted one of the pirates' boats. All the weapons had apparently been tossed into the sea and the suspected pirates are now being held on board the Somme."
Sigh.
Apparently, that's what happens when you attack at night without hi-tech equipment. Despite some evidence of off-shore mother ships, sophisticated money and intelligence transfers, most Somali pirates are rag-tag groups of impoverished fishermen and other coastal dwellers who are in it for some quick cash. With dreams of ransom riches dancing in their heads, they grab their AK-47s, jump into small skiffs, and try to take on passing trading vessels. (Read the recent cover story of our weekly magazine for an inside look at how the business works.)
This is the third time this year that Somali pirates have attacked a Western military vessel by mistake, which brings us to our Top 5 list of Somali pirates blunders.
5. Last night's attack on the French Navy vessel.
4. On May 4, the French Navy captured 11 pirates off the coast of Somalia as part of a European Union operation to protect shipping. The pirates reportedly mistook a French frigate for a commercial ship.
---