Thailand: Knitting for charity creates a new social fabric
(Read article summary)
After watching her grandmother knit socks for soldiers, a Brit teaches Thai to make blankets for the poor.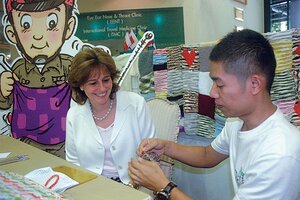 Tibor Krausz
A policeman grapples with it. A tattoo artist practices it. A tricycle rickshaw driver does it.
Knitting, that is.
"At first they all say, 'No way!' " Angela Stafford explains. "But once they get the hang of it, they can't stop."
A community organizer from England working at a Bangkok hospital, Ms. Stafford has recruited a motley crew of Thai volunteers for a worthy cause: to knit winter blankets for poor hill-tribe children.
Come November and December, nighttime temperatures can plummet to subzero in northern Thailand's remote mountainous region where most residents live in rickety bamboo and rattan huts.
Soon, however, several communities will have colorful, new, warm blankets. At the bidding of Stafford and her Thai helpers, hundreds of Bangkok residents from all walks of life have agreed to knit several six-inch squares, which are then stitched into large blankets.
"My mother and grandmother knitted socks for soldiers during the war, so I thought, Let's do it in Thailand," Stafford says.
Knitting has no tradition here, and the clickety-clack of knitting needles makes for a rare sound. Or used to.
"I haven't seen many people knit before," concedes Surangkhana Laisakul, a young woman participating in the project. "But now it's 'clink, clink, clink.' "
The new pursuit is also helping to break down social barriers, Ms. Surangkhana adds. "I've seen maids teaching [executives] how to knit. Normally, they can't even talk to one another."
---
Follow Stories Like This
Get the Monitor stories you care about delivered to your inbox.