Pakistan makes thrust into Taliban territory
(Read article summary)
Pakistan's Army hopes to quash resurgent Taliban by sending 30,000 troops into the stronghold of South Waziristan.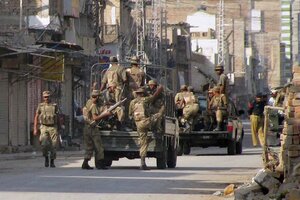 Ijaz Muhammad/AP
ISLAMABAD, PAKISTAN – Pakistan's Army moved into the Taliban's base in South Waziristan Saturday in a ground offensive aimed at thwarting a resurgent enemy that has boldly targeted the country's urban population.
The operation, which follows a wave of attacks that claimed more than 150 lives, was first broached in June, following the military's success in recapturing large swaths of the Swat Valley from the Taliban. Its lengthy delay had generated some concern among analysts who felt that the militants had been given time to regroup after the death of their iconic leader, Baitullah Mehsud, who was killed in a drone attack in August.
The operation in the harsh, mountainous terrain is expected to take
several months to complete. Rifaat Hussain, a security analyst at
the Quaid-e-Azam University in Islamabad, says the Army can expect to
encounter up to 30,000 militiamen and up to 1,000 suicide bombers.
---