Los Tigres del Norte sing of censorship, bail on Mexican award
(Read article summary)
Los Tigres del Norte, a popular Mexican band, canceled an appearance on the Luna Awards TV show in Mexico Wednesday. The Mexican government denied any censorship of the band.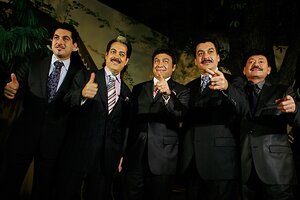 Tomas Bravo/Reuters
MEXICO CITY - Politicians say that narcocorridos, the songs which extol the exploits of drug traffickers, must go. But these ballads appeal to a significant audience.
Caught in the middle are the Mexican musicians themselves, who say their art merely chronicles of the political and business interests that fuel the drug trade and wreak havoc on the streets.
In the most recent standoff, the popular "norteño" band Los Tigres del Norte canceled an appearance at an awards show in Mexico for alleged "censorship." Universal Music, the Tigres' record label, said that the government-owned National Auditorium in Mexico City asked them not to play their narcocorrido hit "La Granja" during Las Lunas Awards ceremony Wednesday night. In protest, Los Tigres bailed out.
La Granja, which translate as "The Farm," seems to take aim at the military-led war against drug trafficking, which has unleashed violence between rival drug traffickers (see our briefing on the key cartels and the Mexican government campaign against them) and taken a livelihood away from many would-be marijuana growers and dealers.
The lyrics, translated by the Los Angeles Times, go like this:
Today we have, every day
Much insecurity
Because they let the dog loose
And it all came tumbling down . . . .
---