South Park puts spotlight on Paul Watson and his "Whale Wars"
(Read article summary)
Paul Watson, a self-described "Earth Warrior," is set for another round of Whale Wars against the Japanese fleet as South Park takes aim.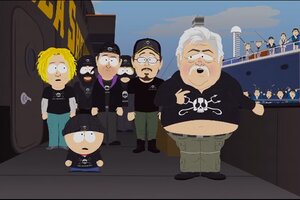 SOUTH PARK STUDIOS screengrab
If mockery is more damaging than direct criticism, Paul Watson is in big trouble.
For 30 years, Watson and his Sea Shepherd Conservation Society have been the most feared eco-vigilantes on the high seas, steaming out in their black ships, jolly rogers hoisted, to ram and sometimes successfully sink Japanese and Norwegian whaling ships. The Law of the Sea? That's for sissies, Mr. Watson sneers, claiming he and his companions have the right to disrupt what they consider to be illegal and unethical whale hunts.
He's persona non-grata in Iceland, spent 80 days in a Norwegian prison in the 1990s and is even too extreme for Greenpeace, which shuns him, notwithstanding that he helped found that organization. One of his ships carries a tally of whalers sunk – including one ship disabled while in Lisbon port by a limpet mine in 1980 – on its side, the way fighter aces used to tally their kills on their fuselages.
Whale Wars
But since Watson and his merry band became the stars of Whale Wars, their own reality show on Animal Planet, their profile has gone through the roof. Movie star Daryl Hannah briefly crewed on the organization's Steve Irwin (named for Australian entertainer/conservationist who was killed by a stingray in 2006) last December as it hunted Japanese whalers in the Southern Ocean. Their roster of celebrity supporters also include Uma Thurman, Mick Jagger, and Sean Penn.
---