In Pakistan, Clinton fails to charm professional women
(Read article summary)
When US Secretary of State Hillary Clinton met with Pakistani women Friday afternoon, many left the meeting feeling frustrated that their concerns – particularly on security issues – had not been heard or addressed.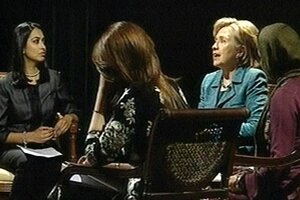 Irfan Mahmood/AP
ISLAMABAD – Addressing a roomful of Pakistani women Friday afternoon at the National Art Gallery here, US Secretary of State Hillary Clinton made every effort to connect with her audience. But after enduring multiple security checks and waiting over four hours for the secretary to arrive, most women left unimpressed.
"Frankly, it was a waste of my time," said one assistant professor from the Fatima Jinnah Women's University (FJWU) in Rawalpindi, who asked not to be named. "[Clinton] wasn't interested in hearing the about the layman's problems or the reality of our daily lives."
That caused many, such as Shazia Marri, the information minister of the Sindh province, to leave the meeting frustrated that their concerns were not heard. "Emancipated women in Pakistan have a clear point of view that did not come across," she said.
The local media has described Mrs. Clinton's three-day visit to Pakistan as a "charm offensive." Her town-hall meeting with female activists, lawyers, journalists, parliamentarians, and businesswomen from across the country was meant to conclude the trip on a high note, particularly in the wake of Wednesday's car bomb attack on a Peshawar market that killed 117 – mostly women.
---