China leading world in economic recovery
(Read article summary)
Buoyed by last year's massive stimulus package, China's economy will grow enough this year to offset three-quarters of the decline in the US, Eurozone, and Japan, a new World Bank report predicts.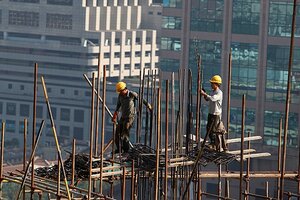 Eugene Hoshiko/AP
China is on track to be the first major economy to emerge from the global slump, a World Bank report released on Wednesday suggested.
China's growth rate this year is likely to hit 8.4 percent, the Washington-based bank predicted. Officials warned, though, that it would take more than Beijing's massive stimulus plan to sustain the recovery next year.
China's $586 billion spending boost, injected soon after the financial crisis broke a year ago, has fueled road-building and other public works, and funded a spending spree by banks.
That has jacked up economic growth, and created jobs for more than half the people thrown out of work when exports collapsed last year and factories laid off around 30 million workers, according to the government.
But the growth impact of the stimulus spending will wear off next year, said the World Bank's chief China economist, Louis Kuijs.
"It is a good time to concentrate … on rebalancing the economy and getting more growth," he argued. "This calls for more emphasis on consumption and services and less emphasis on investment and industry."
---