UN Afghanistan drawdown, fraud charges leave tough task for Karzai
(Read article summary)
The UN said it will withdraw 600 of its 1,100 foreign staffers from Afghanistan as President Hamid Karzai promises economic development after scandal-marred election.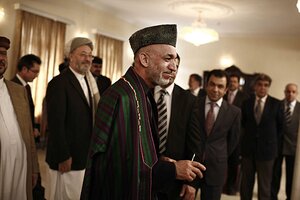 Corentin Fohlen/Sipa press/Newscom
KABUL, AFGHANISTAN – With more than $379 million spent, scores killed, and months of nation-building lost, the Afghan elections have proved a debacle in the eyes of seemingly everyone from fruit vendors in Kabul to world leaders.
An exercise that was intended to build popular legitimacy for the central government in Kabul instead ended with an election marred by fraud that has returned President Hamid Karzai to power, but undermined both his domestic and international standing. His main presidential challenger, Abdullah Abdullah, described the outcome as "illegal" on Wednesday, and said he would no longer contest the result. "I leave it to the people of Afghanistan to judge,'' he told reporters.
It's hard to argue that Afghanistan is better off thanks to the recent electoral process– or that the election will help President Karzai's government, hamstrung by internal corruption and a raging Taliban insurgency, extend its influence across the country and improve the lives of the Afghan people writ large. President Barack Obama is currently considering a "surge" of 40,000 additional troops to Afghanistan as part of an overall strategy that rests on the ability of Karzai and his foreign allies to improve the economy and security.
That task has been complicated by the UN's announcement Thursday that it is pulling 600 of its 1,100 international staff out of Afghanistan in the wake of an attack that killed five UN employees in Kabul last week. Aid groups have found it increasingly difficult and unsafe to operate and have been reducing staff and pulling back those that remain to major population centers like the capital.
But even if elections have left a sour taste, and Karzai has taken political hits from the election, a recent survey found that Afghans don't disdain the government in general as much as is often portrayed.
---