What's behind Iran's espionage charge against US hikers
(Read article summary)
Iran announced Monday that three American hikers – Shane Bauer, Sarah Shourd, and Josh Fattal – arrested July 31 amid post-election tensions had been charged with espionage.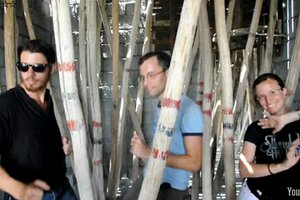 Shon Meckfessel/AP/Youtube screengrab
ISTANBUL, TURKEY – Iran has charged three Americans with espionage, after they strayed during a hiking trip in northern Iraq this past July, in a move likely to complicate US overtures toward Iran.
"The three are charged with espionage. Investigations continue into the three detained Americans in Iran," Tehran prosecutor Abbas Jafari Dolatabadi said on Monday. Family members have made appeals for their release, shown snapshots of the three visiting tourist sites in the Middle East, and say they wandered into Iran by accident.
US Secretary of State Hillary Clinton renewed her call for the release of the three hikers from Berlin on Monday.
"We believe strongly that there is no evidence to support any charge whatsoever," Clinton said. "And we would renew our request on behalf of these three young people and their families that the Iranian government exercise compassion and release them, so they can return home."
According to Iranian law, the charges could result in the death penalty. But past precedent suggests that the decision by Iran's hard-line judiciary could be a bid by some right-wing factions in Iran to block any chance of US-Iran reconciliation. It could also be used as a diplomatic card to gain concessions, or to exacerbate already tricky nuclear negotiations between Iran and the West.
---