Editor who led independent journalism in China resigns
(Read article summary)
Hu Shuli had sought to boost the independence of China's top investigative business magazine, Caijing. Her resignation reflects Beijing's shrinking tolerance for free media.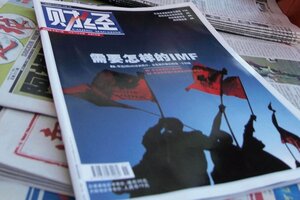 Ng Han Guan/AP/File
BEIJING – Independent journalism in China, never a robust phenomenon, has taken a body blow with the resignation from the country's top investigative business magazine of its pioneering editor.
Hu Shuli, editor and founder of the biweekly Caijing, stepped down Monday after a prolonged tussle with the magazine's owners over financial and political differences.
"This is disastrous for professional journalism in China," says David Bandurski, head of the China Media Project at Hong Kong University. "Hu Shuli embodied the professional spirit. Her departure is a huge discouragement to Chinese journalists."
"The course of advancing freedom of expression is not very straight … and there is not a very strong force behind it," adds Gong Wenxiang, a journalism professor at Peking University. "I don't think the environment for people like her [Ms. Hu] is very positive."
Caijing, founded 11 years ago, has made a name for itself with investigations of corporate and government corruption that have put a number of people behind bars. Such reporting, however, and the magazine's broadening coverage of stories beyond the business world, has made Hu some powerful enemies in the ruling Communist party.
They reportedly put pressure on Caijing's owners, the Stock Exchange Executive Council, to rein Hu in. Her riposte – a bid to change the magazine's shareholder structure to strengthen its independence – ended unsuccessfully with her resignation.
"Caijing is one of a kind," says Xiao Qiang, head of the China Internet Project at the University of California at Berkeley. "The fact Hu has to leave symbolizes the failure of that kind of experiment. The space she created has been closed down, and I don't think anything like Caijing will come up soon."
---