Why is Israel's Shimon Peres in Brazil and Argentina? Iran.
(Read article summary)
For the first time in 40 years, an Israeli president is paying a state visit to Brazil. Israel President Shimon Peres began a week-long visit to Brazil and Argentina today. A key reason: Iran's growing influence in Latin America.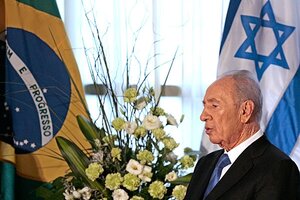 Eraldo Peres/AP
Whose backyard is Latin America now?
That's the question that a flurry of leaders seem to be trying to answer on a series of visits to the region this month. Israeli President Shimon Peres began his week-long jaunt to Brazil and Argentina today with the stated purpose to "discuss the Iranian infiltration of the continent, opportunities to strengthen political and strategic ties between the countries, and how to increase economic cooperation."
He's right on time. The first state visit by an Israeli president to Brazil in 40 years and to Argentina in 20 comes just weeks before an expected trip by Iranian President Mahmoud Ahmadinejad at the end of this month. Brazilian officials also say Palestinian leader Mahmoud Abbas may visit them this month.
So how did the world's fifth largest country, better known for samba and soccer stars than nuclear nonproliferation negotiations (to its long-simmering resentment), become a proxy playing field for Israeli-Iranian tête-à-tête?
---