Brazil touts drastic decline in Amazon deforestation ahead of Copenhagen
(Read article summary)
Brazil announced that it had cut the amount of Amazon deforestation in half. It plans voluntary reductions between 38 and 42 percent in carbon emissions at the upcoming Copenhagen climate talks.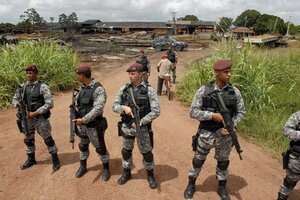 Paulo Santos/Reuters/File
Brazil's vow to go to Copenhagen climate talks as "part of the solution and not part of the problem" gained weight yesterday when federal officials announced annual deforestation rates have fallen to their lowest level in more than 20 years.
Some 7,008 square kilometers (2,706 square miles) of the Amazon was destroyed in the year preceding July, almost half the amount of the previous 12 months and the lowest annual total since officials started keeping records in 1988.
The announcement was greeted with jubilation by a government who last week said it would offer voluntary reductions of between 38 and 42 percent in its CO2 emissions at next month's talks in Copenhagen on curbing global warming, dubbed COP-15.
"The new deforestation data represents an extraordinary and significant reduction for Brazil," President Luiz Inácio Lula da Silva said. By the year 2020, the Lula government has vowed to cut deforestation by 80 percent from a base of 19,500 sq. km.
Such reductions are vital because a large part of Brazil's CO2 emissions come from burning land in order to use it for agriculture. Worldwide, tropical deforestation in nations such as Brazil, Indonesia, and the Democratic Republic of the Congo accounts for more CO2 emissions than all the exhaust from cars, boats, and planes combined.
---