APEC leaders: no climate change deal at Copenhagen
(Read article summary)
President Obama and other APEC leaders agreed there wasn't enough time to reach an agreement on climate change at the Copenhagen summit next month.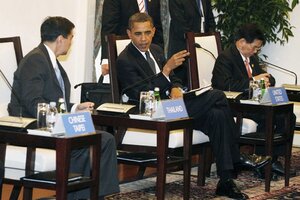 Eisaku Osada/AP
President Obama ran as a climate-change candidate who said that the time to act was now.
But at the annual Asia Pacific Economic Cooperation (APEC) meeting, Obama has joined the chorus of doubters that say that a global deal on cutting emissions won't be reached at a key summit next month in Copenhagen. The 19 leaders agreed that the gap between rich and poor nations over what to do about global warming was too big to bridge in the next three weeks. The December meeting in Denmark would be an interim step to any final agreement.
Those doubts reverberated Sunday at the APEC meeting in Singapore, the second leg of Obama's Asia tour. He's now on his way to Shanghai to start his first China visit.
Underscoring the importance of the foundering Copenhagen summit, Denmark's prime minister flew to Singapore to meet with APEC leaders, including the two biggest polluters: China and the US.
---