Tiger Woods apologizes. Taiwanese news site animates accident, rumors
(Read article summary)
Tiger Woods issued a statement Wednesday apologizing for his "sins." A Chinese news outlet produced a computer animated video version of the accident.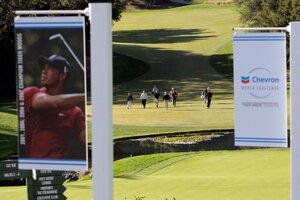 Jae C. Hong/AP
It's the car accident heard around the world. There don't appear to be any eyewitnesses to Tiger Woods vrooming out of his driveway in the wee hours Friday only to crash into a fire hydrant and a tree.
But that didn't stop a Taiwanese news group from producing a video of the accident.
Apple News has tapped the massive global curiosity over what really happened to the world's No. 1 golfer by creating a computer-generated animation "documenting" it second by second.
The fake CGI explanation spread across the Internet as Tiger Woods issued Wednesday his most thorough statement yet about the accident. The posting was emotional, and personal – and left all the gossipy questions unanswered.
"I have let my family down and I regret those transgressions with all of my heart. I have not been true to my values and the behavior my family deserves. I am not without faults and I am far short of perfect. I am dealing with my behavior and personal failings behind closed doors with my family. Those feelings should be shared by us alone."
It continued: "Personal sins should not require press releases and problems within a family shouldn't have to mean public confessions. Whatever regrets I have about letting my family down have been shared with and felt by us alone.
"I will strive to be a better person and the husband and father that my family deserves. For all of those who have supported me over the years, I offer my profound apology."
What the heck is he referring to?
For that Apple News steps into the void.
---