Russian nightclub fire: Corruption behind Lame Horse tragedy?
(Read article summary)
After a Russian nightclub fire killed 113 people in Perm, a national day of mourning and allegations that corruption fed the tragedy.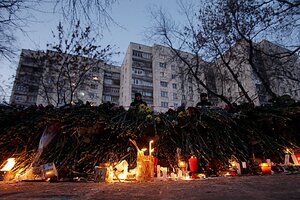 Denis Sinyakov/Reuters
MOSCOW - In the wake of a devastating fire that killed 113 people at the Lame Horse nightclub in the Russian city of Perm, some here are pointing to a culture of corruption, indifference, and fatalism – often aggravated by alcohol – that allows such accidents to reoccur in Russia.
According to official statistics, 18,000 Russians die each year in fires, several times the rate in most developed countries. The US, which has twice the population of Russia, has 3,500 fire fatalities in 2008.
The Lame Horse tragedy, which included 130 injured, came in a panic-stricken stampede after a ceiling made of flammable plastic and dried branches exploded in flames during an illegal indoor fireworks display late Friday night.
"These people have neither brains nor conscience," said President Dmitry Medvedev, a judgment on the nightclub owners that was echoed by many average people interviewed by Russian media over the weekend. "We will need to punish them as harshly as possible."
To be sure, it's just not Russians who make these mistakes. In 2003, 100 people were killed in fire set started by indoor pyrotechnics at the Station nightclub in Rhode Island. In the US, innovative steps have been taken to improve nightclub safety since.
Day of mourning
Russians were burying the dead and searching their souls during an official day of mourning ordered by the Kremlin Monday. Flags flew at half mast around the country, official events were canceled and Russia's top TV network dropped all advertising for the day.
---