At Copenhagen climate change talks, researchers tout keeping trees as a solution
(Read article summary)
Researchers at the Copenhagen global warning talks say they're finding success in reducing emissions by encouraging tropical countries to protect their forests.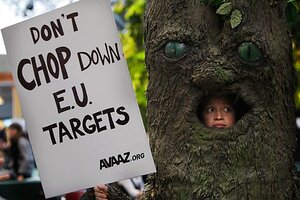 Anja Niedringhaus/AP
COPENHAGEN, DENMARK – If you want to help apply the brakes to global warming, save some trees – especially if they are in the tropics.
That's the simple idea behind one approach to reducing greenhouse-gas emissions. And it's gained enough traction to become one of the few success stories so far at UN-sponsored global warming summit here in Copenhagen.
Delegates from more than 190 countries are grappling with difficult issues of money and emissions targets as they try to craft a follow-on to the 1997 Kyoto Protocol.
But while negotiators engage in diplomatic arm wrestling over emissions reductions and funding to help poor countries adopt cleaner technologies, and scientists present evidence of the dangers of carbon emissions, they are having a much easier time getting behind avoiding additional carbon dioxide (C02) emissions by keeping trees in the ground. It's an approach known by the acronym "REDD."
Talks over REDD's inclusion in any new climate agreement "are moving very well," said Markku Kanninen, senior scientist at the Center for International Forestry Research (CIFOR) in Bogor, Indonesia. "It's one of the few issues that have no big difficulties," he told reporters.
---