Copenhagen global warming draft points to hard bargaining ahead
A draft pact for a global warming treaty released Friday in Copenhagen would commit the US to significant emissions cuts by 2020 and draw developing nations into an agreement for the first time.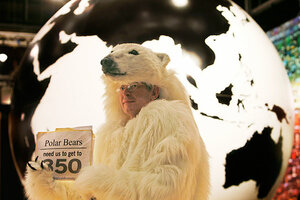 Heribert Proepper/AP
Negotiators working on a new global warming treaty released a draft pact today that would commit the US to significant emissions cuts by 2020 and 2050. And, for the first time, it would draw developing countries into a climate agreement, something many analysts say is crucial in the fight against global warming.
The seven-page draft provides the springboard for talks next week in Copenhagen among government ministers. At the end of the week, some 117 heads of state -- including President Obama -- are coming to Copenhagen to wrap up an agreement. As senior political officials, the ministers will try to resolve as many of the outstanding issues as they can before the heads of state arrive.
Those outstanding issues appear as bracketed text in the draft, and they include the most critical elements of a new agreement: temperature objectives and emissions targets, and long-term financial aid for developing countries to help them adapt to global warming and afford the green technologies thew would need to live up to their part of the agreement.
The new text and a companion document for countries negotiating a new commitment period under the 1997 Kyoto Protocol, "really crystallize the key issues," says Alden Meyer, director of policy and planning for the Union of Concerned Scientists in Washington. Reviewing the talks so far from his vantage point in Copenhagen, Mr. Meyer, a veteran of climate negotiations since 1992, observed: "This is probably the most intense and high level negotiating session we've ever had on the climate issues."
---