Guinea massacre 'premeditated and organized' by military: report
(Read article summary)
A Human Rights Watch report released today contradicts claims by Guinea military leader Moussa Dadis Camara and his would-be assassin, Lt. Abubakar "Toumba" Diakite, that they were not responsible for the Sept. 28 massacre. At least 150 Guineans were killed in an afternoon.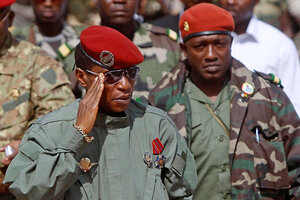 Schalk van Zuydam/File/AP
Who is responsible for the massacre by uniformed soldiers, police, and militiamen that killed at least 150 pro-democracy demonstrators in Guinea?
A report by Human Rights Watch, released today, presents evidence that Guinea's ruling military party organized and carried out the Sept. 28, 2009 massacre – and of speedily organizing a cover-up. The murders, rapes, and abuses by security forces that day "rise to the level of crimes against humanity," it says.
The massacre's alleged leaders continue to deny responsibility. There have been near-blanket international calls for Guinea to account for the atrocities, as well as diplomatic pressure for Guinea's military junta to step aside and, as promised, allow national elections.
Military junta leader Moussa Dadis Camara has said that the stadium massacre was carried out by rogue militants. He is in a Moroccan hospital after surviving an assassination attempt Dec. 3 by an aide, Lt. Abubakar "Toumba" Diakite. Now in hiding, Diakite told French radio Wednesday that he shot Camara because the captain would try to pin responsibility for the massacre on him.
---