Philippines Mayon volcano ready to blow, but some residents slow to go
(Read article summary)
The Mayon volcano in the Philippines is expected to erupt imminently. But some residents are slow to leave their farms and homes, despite evacuation pleas.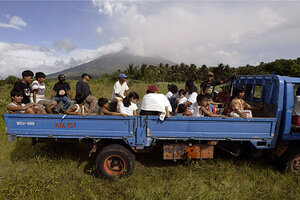 Mike Alquinto/AP
With "audible booming and rumbling sounds" coming from the Philippines's Mayon volcano, in the words of the Philippine Institute of Volcanology and Seismology, a major eruption is expected within days. But even with the crater glowing with lava at night, Filipino security forces are having a hard time keeping tens of thousands of evacuated residents from returning to the danger zone to check on their farms and homes.
"There are people who have been evacuated three times and we sigh: 'You again?' " Gov. Joey Salceda of Albay province told the Associated Press. "We've been playing cat and mouse with them."
Mayon is about 200 miles southeast of the capital, Manila. The over 8,000-foot peak in the central Philippines overlooks the Gulf of Albay and Legazpi city.
Filipino forces went house to house on Monday with trucks to pressure the 3,000 remaining residents in the danger zone to evacuate. But some men refused to board. "There are always a few who don't want to go. They say they are used to eruptions and they never get hurt anyway," a village counselor told the Agence France-Presse.
---