How Bob Barker joined Sea Shepherd Paul Watson and the whale wars
(Read article summary)
Bob Barker was among the early Hollywood converts to the animal rights movement. When Paul Watson told him that for $5 million he could end Japanese whaling, Barker responded 'Let's get it on.'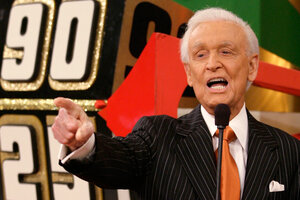 Damian Dovarganes/AP
Bob Barker made a fortune and became a popular figure in millions of American households thanks to his avuncular demeanor during his 35-year run on the US gameshow The Price is Right. But his warm smile and encouragement for contestants belied a more pugnacious side that has been revealed only in recent years.
In 1996, playing himself in the movie Happy Gilmore, Mr. Barker delivered a beating to Adam Sandler's titular character. Last September, he joined the pumped-up behemoths of World Wresting Entertainment to play "The Price is Raw," and forced wrestler Chris Jericho to back down after warning him, "I might have to take you over my knee."
But all that was a warm-up for the real confrontation that Barker's namesake, the Bob Barker, a 1,200-tonne former whaler, participated in earlier this week.
---