Haiti earthquake: Twitter offers glimpse of the scene, lifeline of hope
(Read article summary)
Haitians and those living in Haiti took to Twitter to get word of their situation out to the world, even as those with family in Haiti still could not reach loved ones via cellphone. A sampling of tweets and other social media.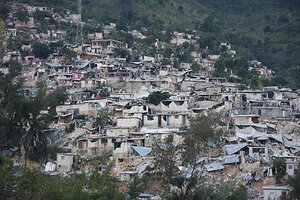 Matt Marek/American Red Cross/AP
The following is a sampling of tweets and and blog selections from users in Haiti or reported to be in touch with Haiti.
Haiti was devastated by a magnitude 7.0 earthquake that struck 10 miles off its coast early Tuesday evening. The International Red Cross says an estimated 3 million people were affected. The Monitor cannot confirm the authenticity of these posts
–"everybody camping in the streets of port-au-prince sleeping under stars to wake up from an awful nightmare." ---Posted by Twitter user Frederic Dupoux around 2 AM ET.
–"The four story Caribbean Market building is completely demolished. Yes it was open. Yes the National Palace collapsed. Yes Gov't buildings nearby the Palace collapsed. Yes St Josephs Boys home is completely collapsed. Yes countless countless - countless other houses, churches, hospitals, schools, and businesses have collapsed. There are buildings that suffered almost no damage. Right next door will be a pile of rubble.
---